The month of June… hot, humid, fireflies, grilling out, and cucumbers. LOTS and LOTS of cucumbers. They are a very prolific plant in the south. As long as you pick them daily, sometimes twice a day, they will continue to give an abundance of goodness throughout the summer.
Sweet pickles are the preferred type in our house. There are a few who prefer dill and there are a couple who will always reach for the spicy **raises hand**.  Why not combine my love of spicy with my love of dill?

INGREDIENTS
3-4 pounds pickling cucumbers (the small ones stay crisper longer) sliced 1/2 inch thick
8 cloves garlic, peeled
8 teaspoons dill seed (or 8 heads fresh dill)
8 teaspoons pickling spice
8 jalapeno peppers, seeded and sliced 1/4 – 1/2 inch thick
8 cups water
1 cup vinegar (white or apple cider, I used white)
1/2 cup canning or kosher salt
I found the greatest little kitchen gadget today. It's a jalapeno pepper corer. I love kitchen gadgets but this one is really awesome. It saved me a tremendous amount of pain having to handle the peppers while I removed the seeds. I somehow always manage to get the hot stuff in my eyes. You just cut the top off the pepper, insert the corer and twist it around to remove the veins and seeds. It also enables you to make perfect little rings of peppers.
In a large pot, bring the water, vinegar, and salt to a boil. When the salt is completely dissolved, reduce the heat to low and simmer until your jars are prepared.
This recipe will make 8-pint jars of pickles. Prepare your jars by washing in hot water and set aside.
To each jar add:
1 clove garlic, cut in half
1 teaspoon dill seed (or 1 head fresh dill)
1 teaspoon pickling spice
1 sliced jalapeno (more if you want them really spicy)

Place the sliced cucumbers into the jars to fill. Pour the simmering liquid over the cucumbers leaving a 1/2 inch headspace. Place the lid and ring on the jars. Tighten to fingertip tightness.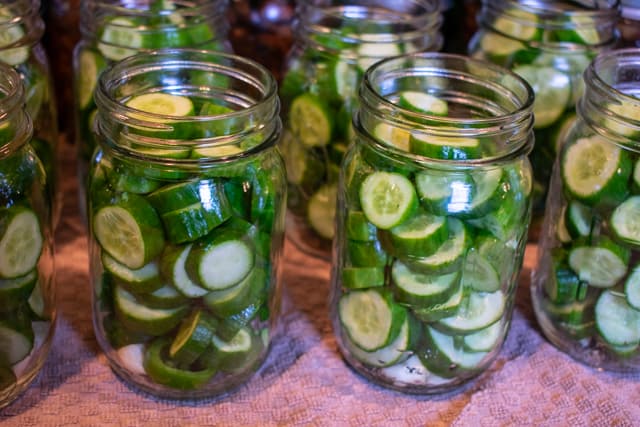 Process in a boiling water bath canner for 10 minutes.

Remove from the canner and allow them to sit for 3 days before opening. This should give the peppers time to mellow out a little.
This recipe could also be used for green beans, asparagus, or carrots. You could substitute 1/4 teaspoon red pepper flakes for the jalapeno peppers if you prefer.