I don't think I've ever met anyone that didn't love BACON! The memories of waking up to the smell of bacon resonate in my brain, along with the memories of my kids running down the stairs whenever they smelled bacon frying in the pan. What's not to love about bacon?
A few years ago, we decided to raise a few hogs to stock our freezer with. I was familiar with pork chops, ham, pork roast, but I had never attempted bacon before. Without knowing the process, I was a little intimidated. How could something so delicious be so easy to make yourself? Well, this recipe for home-cured and smoked bacon will assuage all your fears. It really is a simple process.
Begin with a slab of pork belly. There really isn't a fancy sounding name for that that I know of. I've never seen pork belly sold in our stores, so you may have to search a little to find one. Check with your local farmers or butcher shops. You might also try local meat processors. Often times they will have just what you are looking.
Mix the brown sugar, salt, pepper, and Tender-Quick in a medium bowl. Make sure everything is thoroughly combined. I began using Tender Quick when our son was in Afghanistan. It serves as a preservative for meats and was necessary to make sure the meat didn't spoil during the transit time. It can be omitted if you prefer.
Spread the mixture on both sides of the pork belly. Rub the mixture thoroughly into the meat. Place in a gallon sized freezer bag and refrigerate for 10-14 days until the meat becomes firm to the touch. Each day, flip the meat over and rub the mixture into the meat.
Once the meat is cured, remove from the bag and rinse thoroughly in cold water. Pat dry with paper towels and place on baking racks. Refrigerate overnight to form a pellicle. This is a thin layer of film that will allow the meat to absorb the smoke flavors. At this point, you could add any seasonings you like. Think of national cuisines and flavor in any manner you desire.
To smoke the bacon I used an electric smoker. They are so much easier for me to use. I don't have to constantly check the temperature and add wood or open the vent, etc.  Set the temperature to 200 degrees and smoke for approximately 2 hours until the internal temperature reaches 150 degrees. For smoking, I used applewood chips.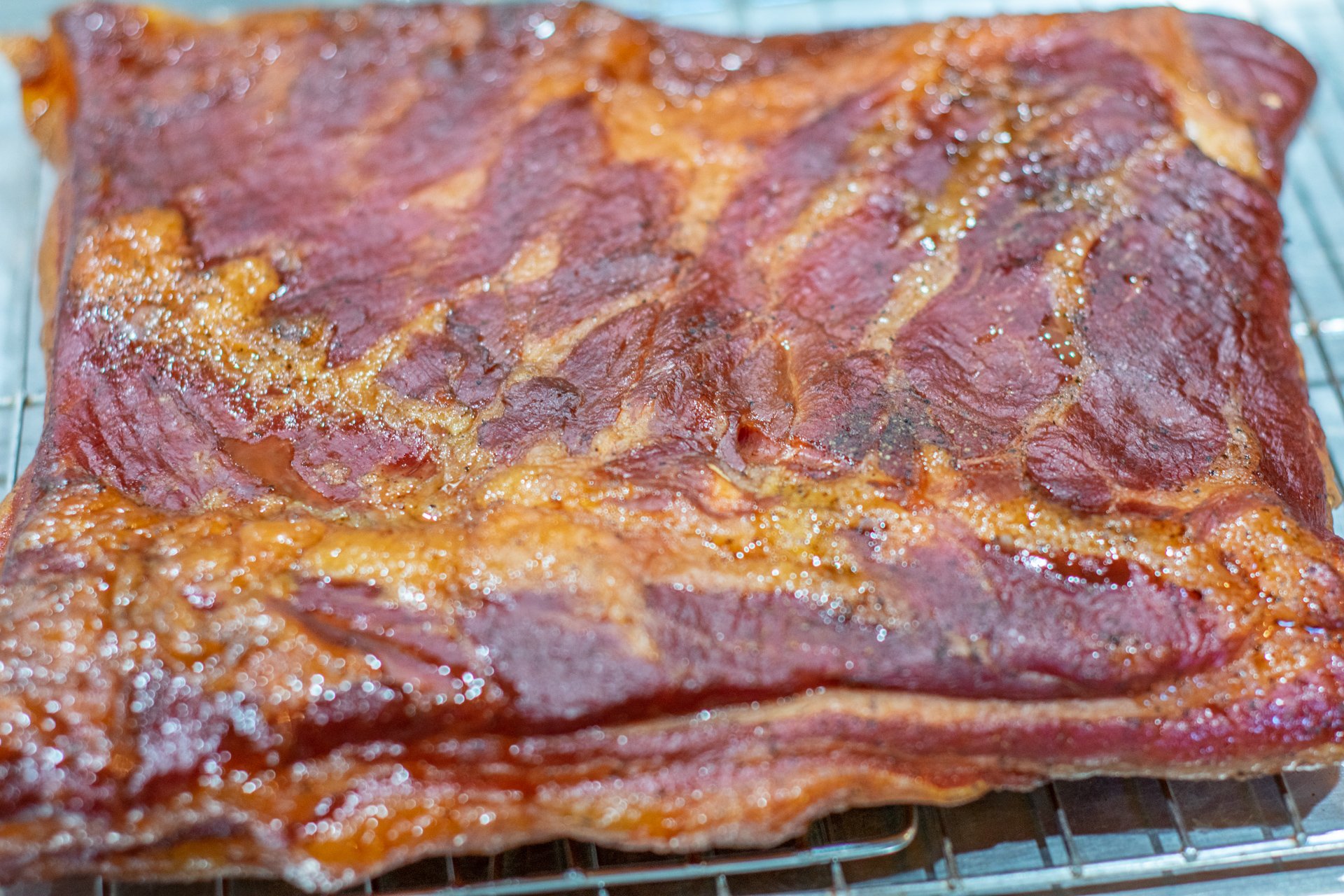 As with any recipe, homemade is always better. This recipe for home-cured and smoked bacon is not different. I know exactly what went into making it. There are no artificial ingredients and I know where the pork came from. If you want sweeter bacon, add maple syrup or honey. For spicier bacon, add cayenne or any pepper of choice.
You will love all the possibilities available when you make your own bacon!
Print Recipe
BACON - HOME CURED AND SMOKED
Making bacon at home is not difficult. You can add your own blend of spices to create the perfect taste for your family. This recipe is for a basic homemade bacon.
Ingredients
2-3

pounds

pork belly

1/2

cup

brown sugar

3

tablespoons

kosher or sea salt

do not use iodized salt

1 1/2

teaspoons

black pepper

1/2

teaspoon

Tender Quick
Instructions
Mix the sugar, salts, pepper, and tender quick together in a medium bowl.

Rub the mixture into the pork belly.

Place into a one gallon ziploc bag and refrigerate for 10-14 days. Flip daily and massage the mixture into the meat.

Remove from the bag and rinse thoroughly.

Place onto baking racks and refrigerate overnight. Add any additional seasonings you desire.

Smoke at 200 degrees for approximately 2 hours until the internal temperature reaches 150 degrees.

Slice to your desired thickness and enjoy! This can also be frozen for later use.