The females in our family have never been big breakfast eaters…the males – that's a different story. For many years, they have had to fend for themselves except for special occasions, you know, Christmas morning and…Christmas morning. I know, I'm a horrible person! What kind of wife and mother would make their loved ones cook their own breakfast?!? This one…I am NOT a morning person, in fact, I'm not a very likable person until I've had my first pot of coffee. In my own defense, I would make their breakfast when they were little but that all changed when they were old enough to make their own. Coffee! I need my coffee!
It seems all this must change now that my daughter is on a special diet. We have gone gluten-free, sugar-free, and three meals a day, at least for the near future. This is a recipe that was adapted from one that we eat occasionally. Normally, I would add cheese but we are trying to avoid that as well. R said she likes it better without the cheese! 
The plan? Have breakfast for dinner and the leftovers will be for R's breakfast! Win…win!
A frittata is basically a quiche without a crust. We raise our own hens and pigs so most all the ingredients are farm raised, fresh, and delicious. 
Brown the sausage in a medium saute pan. When the sausage is almost cooked, add the spinach. The heat from the sausage will wilt the spinach.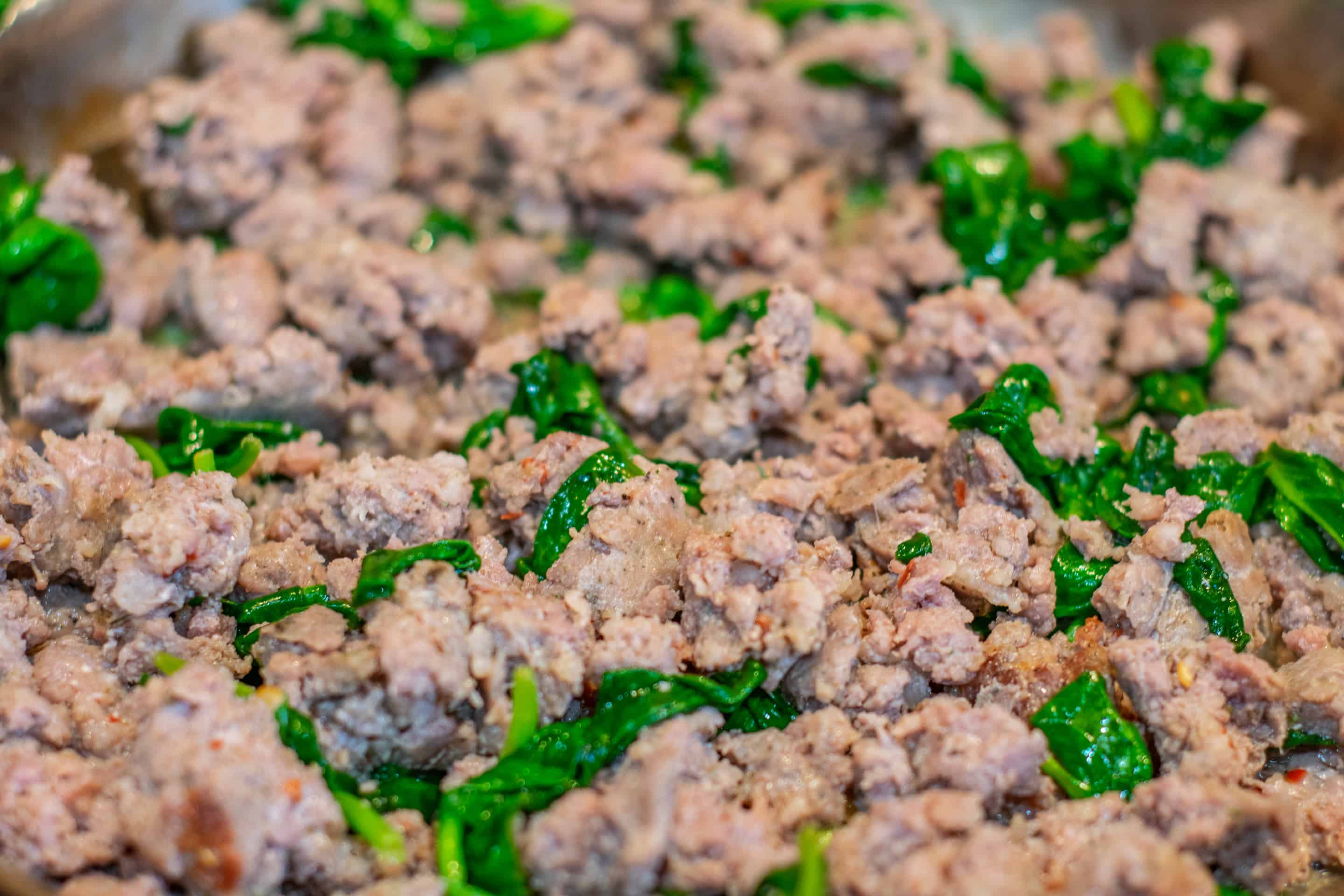 In a medium bowl, whisk the eggs and milk. Add salt and pepper to taste. Add the sausage mixture and stir until well combined.
In an oven-proof skillet, heat 2 tablespoons of coconut oil. When heated, add the egg mixture. Stir gently to move the egg mixture around the bottom and sides of the pan. Let this cook for a few minutes without disturbing until you begin to see the outer edges start to firm up. This will take 3-4 minutes.
Place the frittata in a preheated 350-degree oven. Bake for 20-25 minutes or until the center comes out clean when a knife is inserted. All ovens vary so I suggest checking at 15 minutes to see how it is cooking. 
Look how puffy this became! Well, half of it is really puffy. (p.s. I'm glad my oven was clean!)
SAUSAGE & SPINACH FRITTATA
This gluten-free Sausage & Spinach Frittata recipe is easy to prepare and is great for breakfast, brunch, or dinner. Serve with fruit or salad and you have a complete meal.
Ingredients
1

pound

pork sausage

cooked

2

cups

fresh spinach

wilted

12

eggs

1

cup

milk

1

teaspoon

salt

1/2

teaspoon

pepper
Instructions
In a large saute pan, crumble the sausage and cook until lightly browned.

Add the spinach. Continue to cook until the spinach is wilted.

In a large bowl, combine the eggs, milk, salt, and pepper. Whisk until thoroughly combined. Add any additional ingredients and mix.

Add the sausage mixture to the eggs and stir until everything is combined.

In a large ovenproof skillet, heat 1-2 tablespoons of coconut oil. (I used a cast iron skillet.) Gently pour the egg and sausage mixture into the pan. With a large spoon or spatula, move the mixture from the outside of the pan towards the center, allowing the uncooked portion to fill the space. Continue for 3-4 minutes until the eggs are beginning to set.

Place the skillet in a preheated 350-degree oven. Bake for 20-25 minutes or until a knife inserted in the center comes out clean. Allow it to rest for 5-10 minutes before cutting.
Serve with fruit or a salad and you have a complete meal.