One of our granddaughters is spending a few days with us. She is such a sweetheart and we love having her here. Yesterday, she requested tacos for dinner. Since it was Tuesday, it was perfect for a Taco Tuesday meal. Wait….yesterday was Wednesday! Where did Tuesday go?? I seriously thought ALL day long that it was Tuesday.
Besides the fact that it was Wednesday and not Tuesday, I had one other problem. I didn't have tortilla shells, but I did have tortilla chips so we changed the menu slightly. This is a really good recipe that can easily be adjusted to your own personal heat preferences. We are a family divided when it comes to heat levels. Some do not like spice at all and others live by the "more is better" rule. I make this on the low heat/spice level and serve peppers and hot sauce on the side.
Another good thing about this recipe is the simplicity of it. Brown the ground beef and onions, layer the ingredients in a large pan and bake. While it's baking, chop the additional ingredients and dinner is done.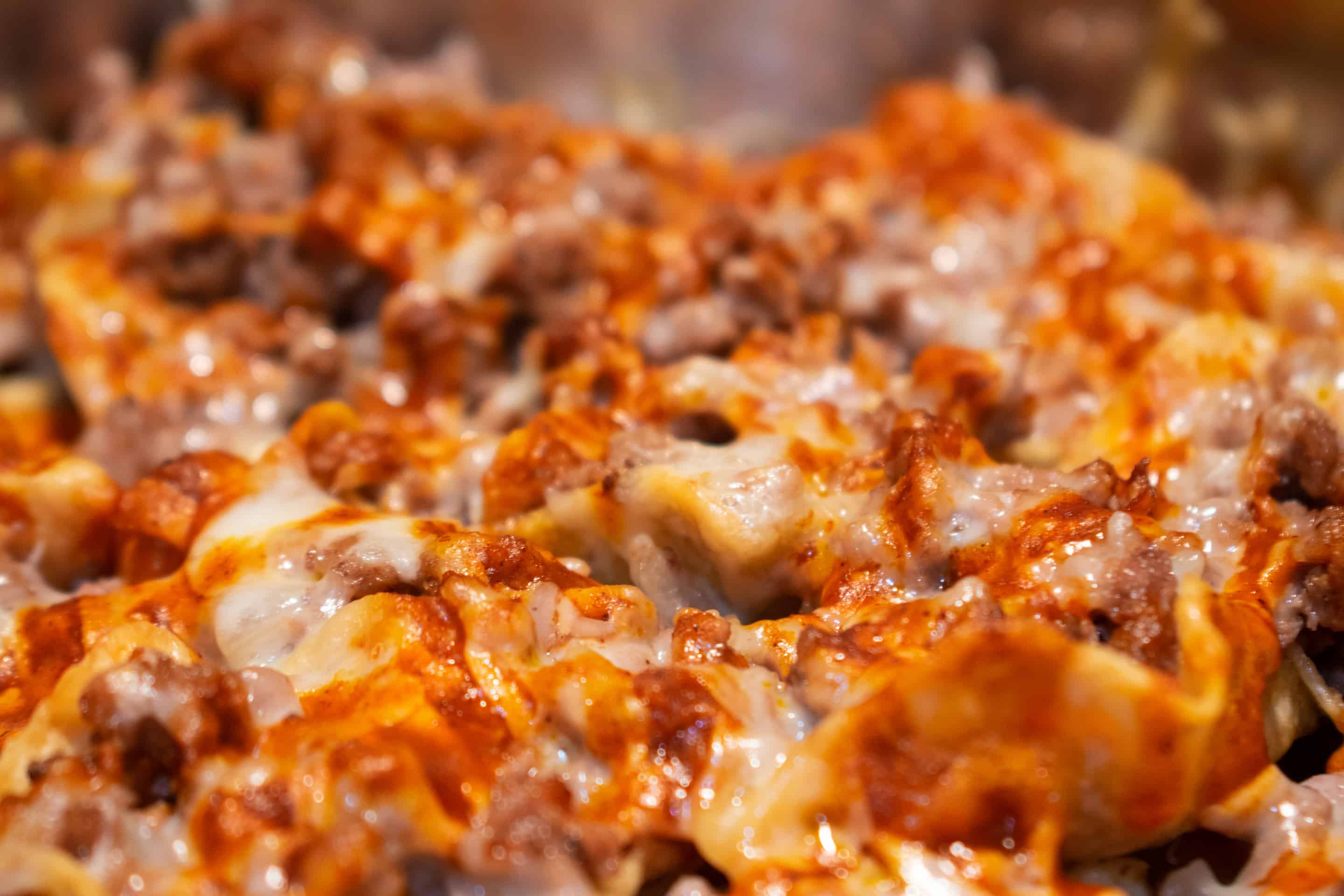 INGREDIENTS
2 pounds ground beef
1/2 medium onion, diced
1 15oz can red enchilada sauce
8 oz Monterrey Jack cheese, grated
1 cup sour cream
tortilla chips
INSTRUCTIONS
1. Brown the ground beef and onions. Season to taste with salt, pepper, cumin, chili flakes. Drain and set aside.
2. In an ovenproof pan or casserole dish, spoon 1/3 of the enchilada sauce over the bottom. Add a layer of tortilla chips over the sauce, followed by half the ground beef. Spoon half the sour cream over the meat and cover with half the cheese. Add another one-third of the enchilada sauce over the cheese.
3. Repeat the layers ending with the remaining enchilada sauce.
4. Bake in a preheated 375-degree oven until bubbly and the cheese is melted.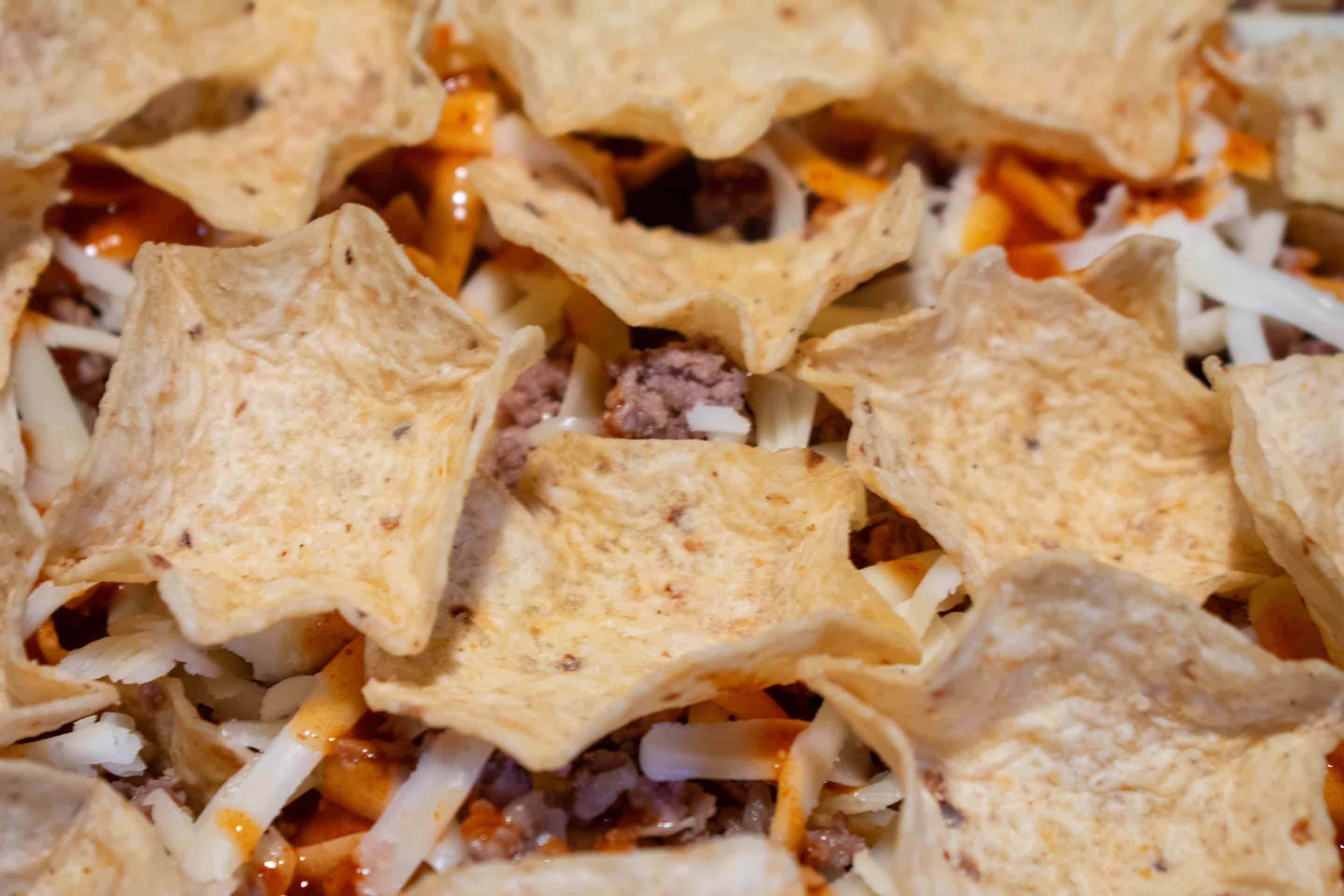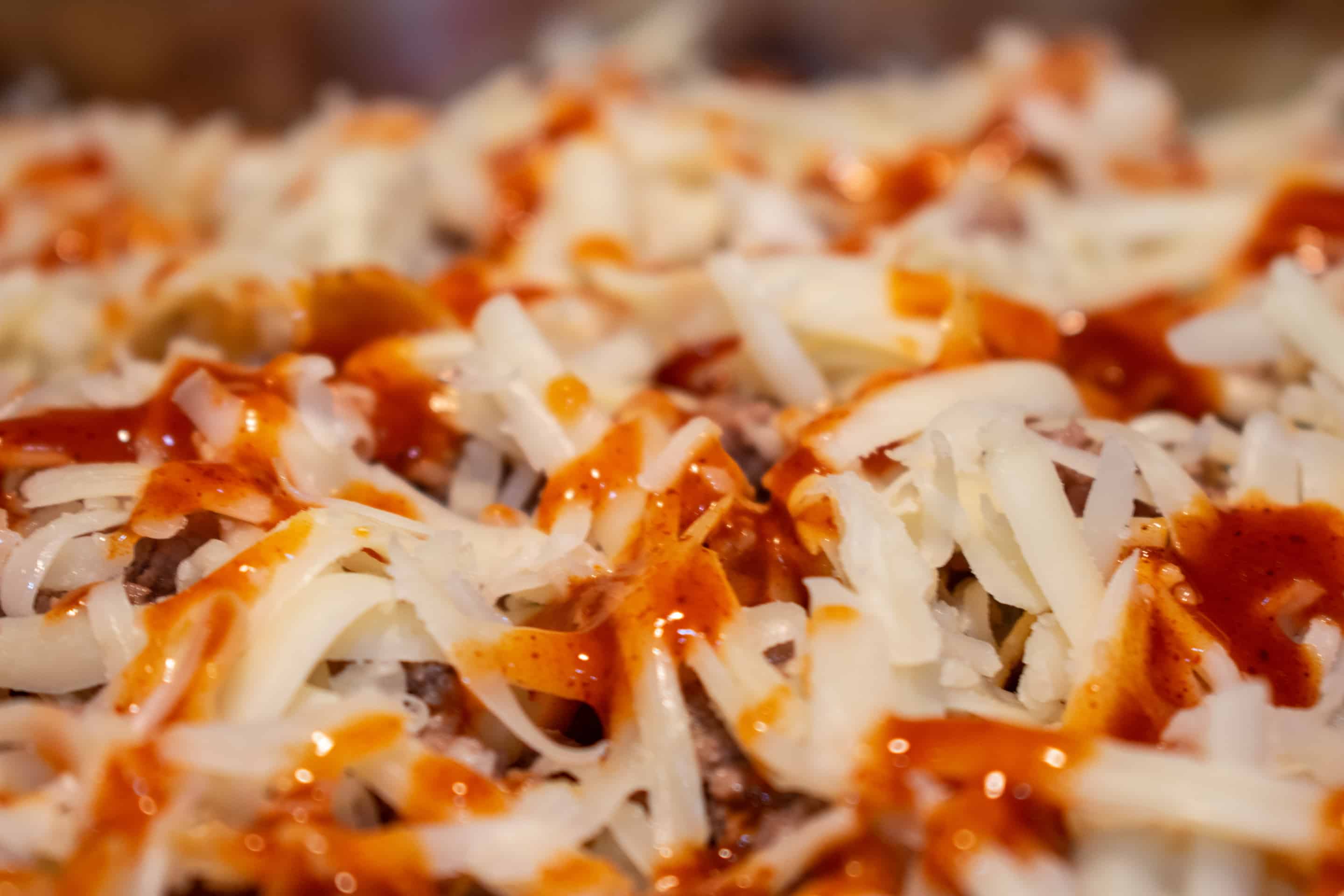 ADDITIONAL TOPPINGS (OPTIONAL)
Lettuce, chopped
Tomatoes, chopped
Jalapenos, diced
Sour Cream
Hot Sauce
Cilantro
Most recipes for chilaquiles use chicken and a green enchilada sauce. My family prefers beef with a red sauce. It's totally your preference. Both are good. Also, it's traditionally served at breakfast with a sunny side up egg….yummm!! All that luscious, oozy, creamy goodness running down between those layers! Who wouldn't love that?!? Don't answer that. We have more than a few at our house that won't eat soft cooked eggs. Actually, I'm the only one that loves them!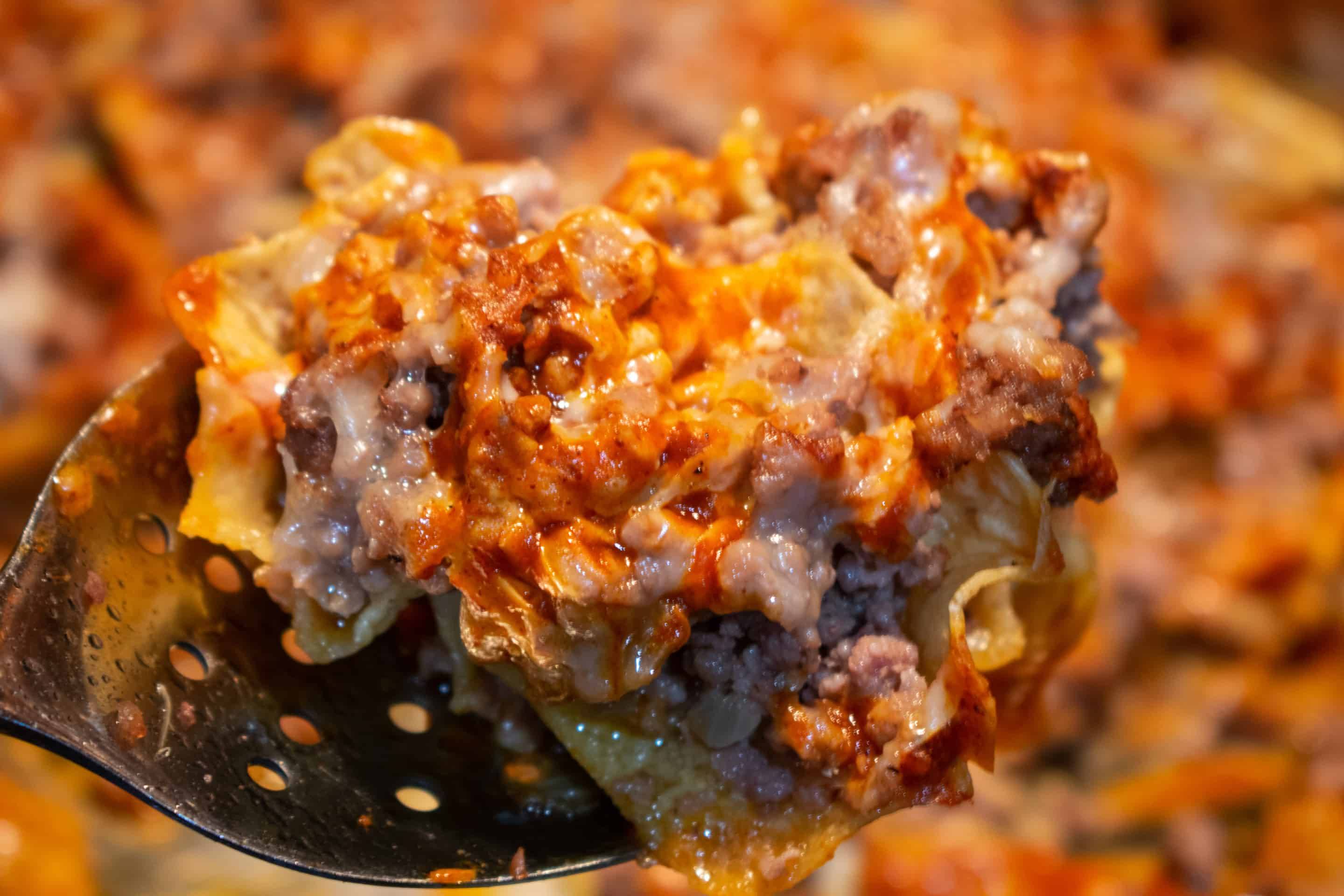 I would probably leave off the additional sour cream if I were serving it with an egg.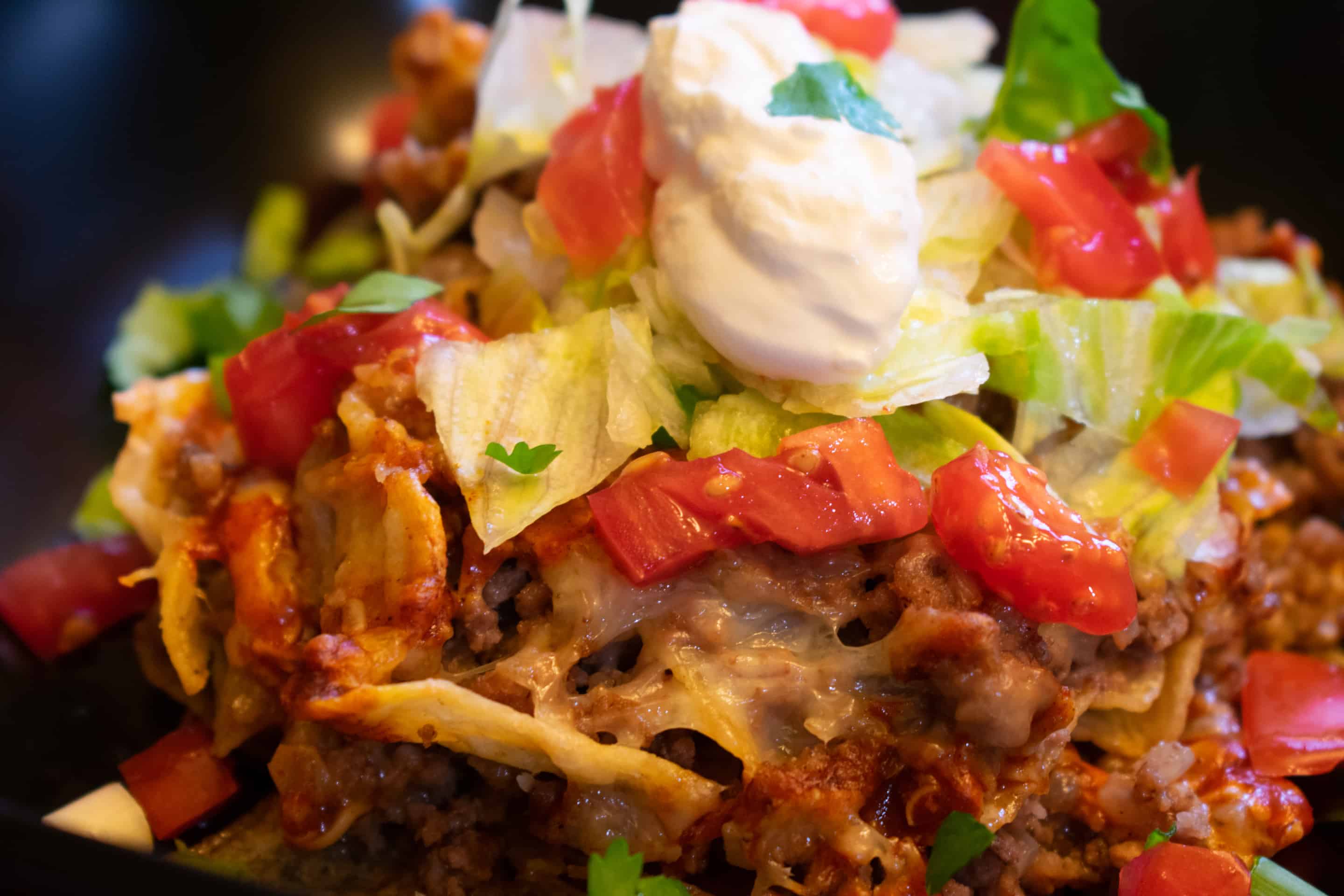 If you love loaded nachos, you will LOVE these chilaquiles. They are scrumptious!